Gabriel did not have surgery today! This is big news because a few months ago we had set today June 1st, as the day Gabriel would have VNS surgery. He did not have surgery today because he has only 1 small seizure in the last 3 months! Yippee! We are prepared to have the VNS surgery in the future, if he needs it….but he did not have surgery today. Can you tell I am glad he did not have to have surgery 🙂
Instead we decided to celebrate by purchasing last minute tickets to ride Thomas the Train. It was so nice to have time together as a family doing something just for fun!
Our sweet observer was taking in all the sights! (he didn't care about pictures)
He took it all in with big smiles! He especially liked when the conductor came by to punch his tickets.
He held onto all of tickets like they were gold!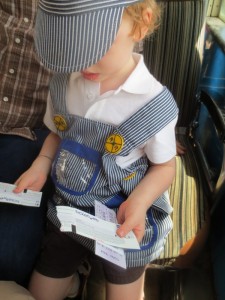 Bye! Bye! Thomas.
It was a great day. We really appreciate getting to do normal kid things with our little man. He still doesn't have a ton of energy or stamina for big events.  We are learning to go on the adventures and enjoy them for what they are. He loves them no matter what and talks about them for a long time afterward.