We just completed a successful round of Keto Trick or Treating. Gabriel LOVED the cars, trashies and other treats he got.


Gabriel choose to be a firefighter this year. I thought for sure he would want to be an engineer again and go grab costume from last year. He surprised me and went with my plan 😉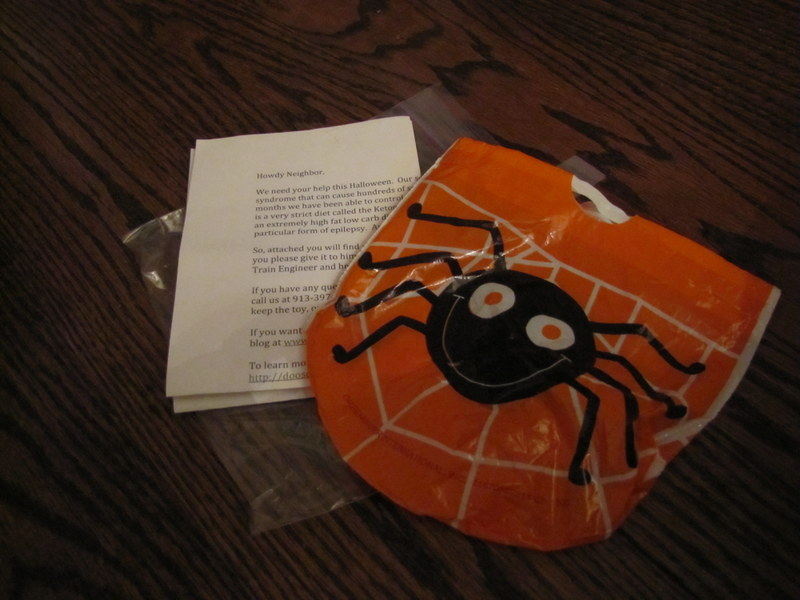 We passed out letters explaining Gabriel's condition and little treat bags asking the neighbors to give Gabriel the treat bag instead of candy. We were WAY behind this year and got them passed out this afternoon! (Last year I had them made weeks before and passed out several days ahead). We are so appreciative to live in a great neighborhood with really nice families. A couple people even added extra treats or wrote personal notes to us. AMAZING!


It is so nice to allow him to have everyday kid experiences! Trick or treating was a lot of fun for him!
In general news we are almost 8 months seizure free and the diet changes continue to go well. His favorite meal right now is deli ham and heavy cream. The doctors are changing his ratio every week instead of every 2 weeks now. We are hopeful that we may be off the diet by Christmas.  His energy levels continue to be all or nothing but we are a little more used to it. For instance he was wide awake at 5 a.m. literally climbing the dresser drawers. Then he could barely stay awake to trick or treat (I ended up carrying him 1/2 the time) and now it is 9 p.m. and he is wide awake again.